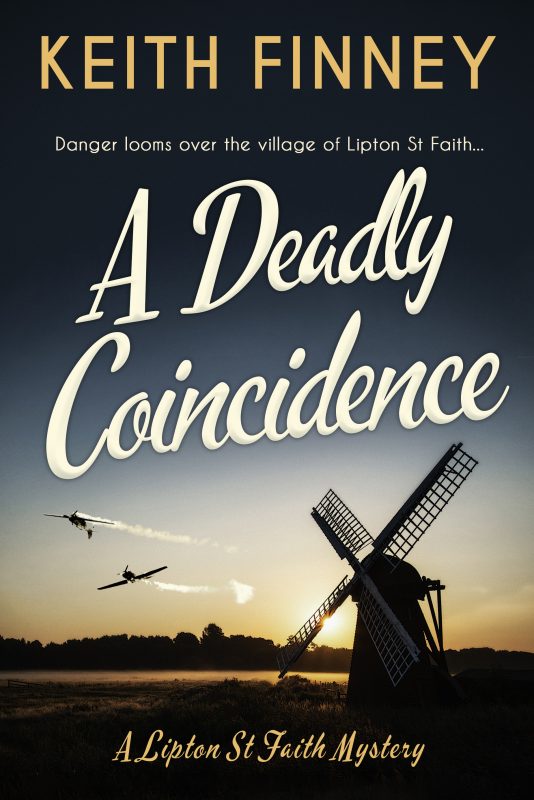 A DEADLY SECRET IN THE HEART OF A QUIET COUNTRY VILLAGE
In sleepy Lipton St Faith, the locals are getting used to their new rationing books and blackout curtains. The Second World War has brought much change to the small Norfolk village, as well as Lieutenant Eddie Elsner, on a mission all the way from America. But when the local postman is found dead, suddenly the war feels much closer to home…
The police are quick to declare it an unfortunate accident, but young, spirited Anna Grix is less convinced. After striking up a fast friendship with the newly arrived American, she teams up with Eddie to dig into this apparent accident.
Full of unexpected twists and turns, A Deadly Coincidence is the perfect read for fans of LJ Ross, Joy Ellis, Faith Martin and Elizabeth Edmondson.
Order Now!
About the Book
'A Deadly Coincidence' is the first book in Keith Finney's new 'Lipton St Faith' mysteries set during Worl War Two. The series begins with American Lieutenant Eddie Elsner having the strangest of introductions to English vicar's daughter Anna Grix.
As opposite as chalk and cheese, the two lead protagonists become unlikely amateur sleuths as they investigate a series of murder mysteries in and around the quaint Norfolk village of Lipton St Faith.
Historical events form the canvas on which each mystery plays out. Taken from archive newspaper headlines, the BBC archives, together with a range of other material, give the fictional characters and mysteries a sense of reality as the author transports you back to the late summer of 1942.
Disclosure of Material Connection: Some of the links in the page above are "affiliate links." This means if you click on the link and purchase the item, I will receive an affiliate commission. I am disclosing this in accordance with the Federal Trade Commission's
16 CFR, Part 255
: "Guides Concerning the Use of Endorsements and Testimonials in Advertising."