Norfolk Cozy Mysteries: Compilation Books 4 – 6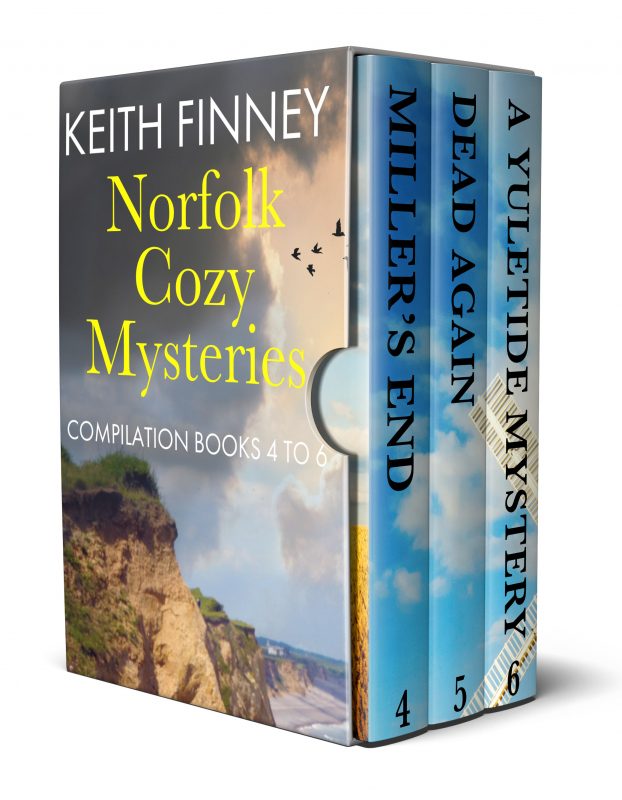 A Sizzling Set of Fast-paced Whodunnits to Test the Smartest of Sleuths!
Miller's End
Forty-five minutes ago, the owner of an ancient Norfolk windmill joked happily with his visitors. Now he's dead. An innocent accident or murder? Time is running out to uncover the truth. Burt Bampton lived for his work - and preserving Norfolk's heritage. How could a man used to skipping up and down the mill's narrow stairs suddenly slip and fall? Detective Inspector Riley believes it to be a tragic accident. Ant and Lyn think different, and as disturbing coincidences begin to emerge all the evidence points to murder. Greed, jealousy and betrayal take our amateur sleuths on a baffling journey to uncover the appalling truth.
Dead Again
A young woman is found dead on a Norfolk beach. A trail of evidence that points to murder and a fight against evil to uncover the truth.
The body of a woman who died years earlier is found on a Norfolk beach. The police conclude it is a tragic accident without explaining how she could die twice. Lyn recognises the corpse as a close friend from her past. This drives her to work closer than ever with Ant to discover what happened ten years earlier, and the awful link between then and now, self-interest and a dreadful secret must be exposed before our amateur sleuths can bring the murderer to justice.
A Yuletide Mystery
A man vanishes without a trace from a Tudor Manor House, a family feud explodes and a telephone call to say someone will die before midnight on Christmas Eve.
The Stanton family are hosting their annual Yuletide party for the villagers when Percival Stanton, a distinguished history professor, disappears. Old family feuds, a near-fatal car accident, professional rivalries and a ghostly apparition complicate the search for Percy. Ant and Lyn have twelve hours to solve this fiendishly complex case before time runs out and the threat that someone will die. As they uncover conflicting clues that point to a sinister plot, the pressure is on our amateur sleuths to find Percival before it's too late.
If you like the Faith Martin, Joy Ellis or Betty Roland Mysteries, then you'll love Keith Finney's Norfolk Cozy Mystery thrillers.
Order Now!